This summer has been the summer of potlucks and picnics. We have hosted or gone to so many that it has equaled out to almost one per week. I like to try to bring something new and different to each one. Plus, I like to bring something that someone on a special diet or with dietary concerns is able to consume. This pasta salad is made with peanut sauce. While it is not friendly to those with a peanut allergy (although I have made it with almond butter instead), it is dairy free, sugar free, and vegan. I like to use maple syrup (vegan), but you could use honey or brown sugar instead.
My favorite thing about pasta salad is that you can experiment with lots of different flavor combinations and ingredients. It can be different each time. I really like the little hint of sweetness from the mango contrasted with the spice of jalapeño in this salad.
You could make this gluten free by using your favorite rice noodles. If you wanted to make this a meal (which we have), you can add grilled shrimp. It is a versatile salad with a delicious base. I can't wait to hear how you experiment with it!
Peanut Pasta Salad
Prep Time: 20 minutes
Cook Time: 10 minutes
Keywords: blender side salad appetizer vegan sugar-free vegetarian
Ingredients (8-12 servings)
For the Peanut Dressing
1/2 cup soy sauce
2 tablespoons rice vinegar
1 tablespoon toasted sesame oil
1/3 cup coconut milk
1 teaspoon grated ginger
handful cilantro
1/4 cup peanut butter
1/4 cup maple syrup
1 teaspoon hot chili oil
juice 1 lime
2 cloves garlic
1/2 cup water
For the Pasta Salad
1 package whole wheat linguine, cooked according to package directions
1 mango, julienne
1 carrot, julienne
1 cucumber, julienne
1/3 each orange, yellow, and red peppers, julienne
1 large handful cilantro, chopped
1/4 cup green onions diced
peanut dressing
Instructions
For the Dressing
Combine all ingredients in the blender. Store in the refrigerator.
For the salad
Toss all ingredients together in a large bowl. Serve cold.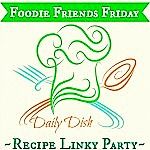 Tags: bbq, Dairy Free, picnic, potluck