Strawberry season is in full swing and we have already used 3 quarts this week. We are working on our next two quarts right now. Lucky for us, they cost about $3.50 per quart freshly picked by the Amish. With our abundance of strawberries comes strawberry flavored food. We have enjoyed a few strawberry smoothies this week alone. I thought I would share this salad because so many other people also want to enjoy strawberries when they are fresh and local.
This poppyseed dressing is based on a recipe from the Welshfield Inn located in Burton, Ohio. While they no longer serve this dressing, they still have the other tradition, Chicken Pot Pie. The restaurant served this dressing on fruit salad as does my mom. For me, the fruit with dressing makes it real sweet, so I use it on a lettuce salad with a little fruit mixed in.
I like to put a little cheese on for the contrast in taste and color. This dressing keeps well for a few weeks in the refrigerator and is great for picnics.
Strawberry Salad with Poppy Seed Dressing
Prep Time: 10 minutes
Keywords: blender salad
Ingredients (1 1/2- 2 cups salad dressing)
For the Dressing
1/2 cup honey
1/2 teaspoon salt
1/4 cup vinegar
1/4 cup light flavored oil
1/4-1/2 cup water
1/2 teaspoon dry mustard
2 teaspoons onion
1 teaspoon poppy seeds
For the Salad
Lettuce
Strawberries
Red Onion
Goat Cheese
Toasted Walnuts or Pecans
Poppy seed dressing
Instructions
For the Dressing
Combine all ingredients except oil in a blender. With the blender on low, drizzle in the oil. Serve warm or cold. Store in the fridge.
For the salad
Combine all ingredients and enjoy.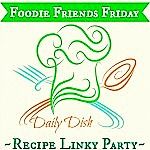 Tags: salad, strawberries