I love salmon, but I almost never eat it. We eat tons of it in the summer when it is flown in fresh and wild, but in the winter it is never as good as the summer. Plus, we have had fresh salmon on the west coast in Seattle and British Columbia. The stuff in Pennsylvania is never as good. After a very long break, I decided that I really wanted salmon a week ago. It was so good, I made it again.
I think the key to good salmon is getting a good sear on one side. I don't like it on the grill or in the oven. I like to crust it in lemon pepper and sear it, basting it in butter at the end.
My favorite things to serve it with are jedra, roasted vegetables, and Greek yogurt. This is a fresh, healthy, tasty meal for any weeknight or guests.
As part of the Surprise Recipe Swap, you can check out Marly's This and That here.
Seared salmon
Prep Time: 5 minutes
Cook Time: 8-10 minutes
Ingredients (2 servings)
1/2 pound salmon, cut into two pieces
lemon pepper
1/2 tablespoon olive oil
1/2 tablespoon butter
2 cloves garlic, crushed
2 tablespoons chopped cilantro
juice 1/2 lemon
Instructions
Heat a skillet on medium-high. Coat the top of the salmon with lemon pepper.
Oil the hot pan and place the salmon lemon pepper side down. Cook without moving for a few minutes until a crust forms. Flip and add the remaining ingredients. Reduce the heat to medium low. Spoon the sauce over the salmon as it continues to cook. Cook until desired temperature.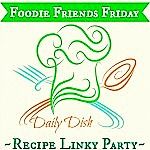 Tags: fast and easy