I have a confession. Up until about two weeks ago I had never tried ribs. For some reason, I thought they were just bones with a tiny bit of meat and some sauce on them. What really could be so special? But, people are talking about how much they love ribs all the time. I really was starting to feel left out. Had everyone else in the whole world really tried ribs? Was I the only person who was left? I decided that it was time to try ribs. I wanted to make my own so I could use my own flavor combinations.
I started at the butcher counter. I asked about different kinds of ribs and how they work. After a few giggles, I was directed towards baby back pork ribs. They said that as long as I cook them at a low temperature and used a sauce that I liked, they would be good. Really they are no fail. I decided to use the oven then grill method that I read about on about a million websites. From there, I took all my knowledge from my research and created a rub to start cooking.
So ribs are pretty delicious and they have a lot more meat than I thought. Plus, who doesn't love caramelized barbecue sauce anyway?I have to say, I see what all the fuss is about. Sticky, sweet, tangy, meaty. A great grilled/oven meal. Perfect for father's day. Plus, if you make the rub, you can use the leftover rub for the sauce. Easy.
Ribs with Homemade Rub and BBQ sauce
Prep Time: 20 minutes
Cook Time: 2-3 hours
Ingredients (4 servings)
For the Rub
1/2 cup brown sugar
1 tablespoon salt
1 teaspoon dry mustard
1/2 teaspoon cumin
1/2 teaspoon coriander
1 teaspoon garlic powder
1/2 teaspoon adobo
1/2 teaspoon onion powder
3 teaspoons smoked paprika
2 teaspoons cayenne
2 teaspoons chipotle powder
For the BBQ Sauce
1/2 cup rub
3/4 cup ketchup
8 drops Worcestershire sauce
2 teaspoons molasses
For the Ribs
1 Rack Baby Back Ribs (about 2-2.5 pounds)
Rub
BBQ Sauce
Instructions
For the Rub
Combine all ingredients in a bowl
For the BBQ Sauce
Combine all ingredients in a bowl
For the Ribs
Generously coat the ribs with rub. Wrap in a double layer of foil. Bake at 250 degrees for 2 hours.
Grill on a hot grill, basting with BBQ sauce every few minutes until the ribs are caramelized. Serve immediately.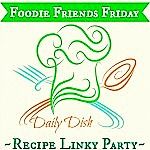 Tags: grilled, oven meals, summer